Academic
Applications have closed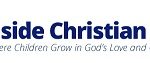 Website Hillside Christian Academy
Hillside Christian Academy has both F/T and P/T positions available.
F/T Preschool Teacher (2)
P/T Teacher with our School Age After Care Program (which may expand to full time) for our 10 week Summer Program.  An excellent opportunity for someone pursuing a degree in Child Development.
Required education:  Minimum of core 12 units in CD
Required experience:  Minimum of 1 year in licensed facility
Salary depends on units/experience
If you are interested in teaching in a small Christian school which provides students with a high academic standard of education set in the framework of Christian instruction and example.
Send resume, statement of faith, letter of referral from Pastor, transcripts, to: hillsidechristian@att.net
or drop them off at 1415 Hillside Blvd., South San Francisco, Ca  (650-588-6860)