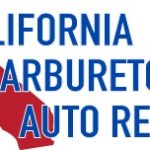 Website California Carburetor and Auto Repair
Christian owned automotive repair shop with a friendly atmosphere, 25 years in business with a good reputation is looking for a quality, honest individual who can do diagnosis and repair on both domestic and foreign cars. Must have at least 7 years of mechanical experience, own tools, driver's license with clean record, and be reliable. Job details would include check engine lights (must know how to use a scanner), drivability issues, brakes and suspension, front end, tune ups, maintenance, timing belts/chains, head jobs, clutches and electrical repairs.
If you are an individual who is a team player with good communication skills and can talk to customers and are someone who is honest and puts people first, then this position may be for you.  We are fair, and treat our customers right and want someone who shares the same values.  This is a low stress position with a good salary for the right person.  Vacation and sick pay are available after one year.
California Carburetor and Auto Repair.
Call Tim at 310-679-1616  www.califcarb.com