Church
Applications have closed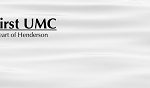 Website First United Methodist Church
First UMC is seeking a pianist to fill an interim position beginning August 2017 and continuing through May 2018.
The successful candidate will demonstrate an ability to read music and perform a variety of genres of music on piano.  The pianist will participate in choir rehearsals, traditional style worship services (including Sunday morning as well as special services held at other times), and weddings and funerals as requested and able to fulfill.  In addition, he/she will arrange for coverage when unable to be present for rehearsals or services.
The pianist will coordinate with the Chancel Choir Director and the Senior Pastor.
The successful candidate for the position will be a person who displays Christian character and maturity.  The lifestyle of this individual will reflect a commitment to Christ and His Church.  The successful candidate will understand that he/she is part of the First UMC ministry team comprised of both the church staff and laity.  The success of the entire ministry is of paramount importance and each member of the church staff must be committed to work toward the success of the ministry of the church as a whole.
Salary and other benefits, if applicable, are subject to negotiation and will be enumerated in an offer letter of employment.  The pay range is $150-$300 per week.