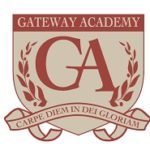 Website Gateway Academy
Think. Believe. Become.
Position Available Teaching Bible and/or Physical Education:
Thank you for your interest in Gateway Academy (GA). We are a private daycare, pre-k through 8th grade, interdenominational day school that serves students and their families in Staten Island, NY and parts of New Jersey. It is our desire to partner with parents in fulfilling their God-given responsibility to teach their children that "In (Christ) are hid all the treasures of wisdom and knowledge" (Col. 2:3) and to provide our students with an education of spiritual and academic excellence with which to serve God.
Applicants must be dynamic individuals who are passionate about their discipline, collaborative and innovative in their approach to teaching, fully supportive of GA's mission and are actively and continuously cultivating their relationship with God. GA provides a rigorous academic program that stretches our students to reach the potential that God has instilled in them.
The ideal candidate has at the minimum a Bachelor degree and is willing and qualified to teach classes at either the elementary or middle school level. Prior teaching experience is preferred. An Association of Christian Schools International (ACSI) teaching certification is required and a state teaching license is preferred (but not mandatory).
Gateway Academy's Bible teacher will instruct middle school students in Old and New Testament history using the Association of Christian Schools International curriculum. This position could be part-time or full time.