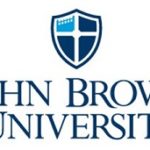 Website John Brown University
John Brown University, private, evangelical and Christian
John Brown University, private, evangelical and Christian, and the Soderquist College of Business seek a full-time faculty member in accounting to begin July 1, 2018.  Responsibilities include but are not limited to teaching accounting courses, providing program support in undergraduate and graduate programs, advising, and committee service. The majority of teaching and advising will be undergraduate.  Preference will be given to applicants with potential to teach in multiple business disciplines and multiple delivery methods.  Limited travel is required as many graduate courses are taught at university and corporate locations within the region.  The position reports to the Dean of the College of Business.
An earned doctorate with significant professional experience is preferred. Masters degree required. CPA strongly preferred.  Preference will be given to applicants with effective teaching experience in higher education and in multiple delivery methods. Evidence of scholarly engagement and a commitment to Christian higher education are essential.
Position begins July 1, 2018.  Applications are accepted until the position is filled.
Submit electronically a letter of interest and vita to academicaffairs@jbu.edu , John Brown University, Siloam Springs, AR.  Phone: 479.524.7129. Women and minorities are encouraged to apply. The formal application document will be sent upon receipt of the letter of interest and vita.