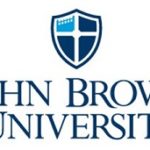 Website John Brown University
John Brown University, private, evangelical and Christian
John Brown University, private, evangelical and Christian, seeks a faculty member in Electrical/Computer Engineering. Responsibilities include but are not limited to teaching courses in engineering areas such as electrical circuits, digital electronics, digital signal processing, communication theory, control systems, and engineering design.
Doctorate in Electrical/Computer Engineering preferred. Masters required. A strong background in signal processing and digital hardware is preferred.
Position begins July 1, 2018. Screening process begins October 23, 2017, and continues until position filled. Submit electronically a letter of interest and vita to academicaffairs@jbu.edu Academic Affairs, John Brown University, Siloam Springs, AR 72761. Phone: 479.524.7129.  Women and minorities are encouraged to apply.